» Stats
Members: 12,970
Threads: 246,848
Posts: 13,750,936

Welcome to our newest member, BigDawgChief70

» Welcome, guest!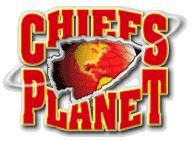 Welcome to ChiefsPlanet,
a Kansas City Chiefs Message Board
This forum is fast and furious with discussion on all variety of topics. Newbies welcomed. If you enjoy reading, don't be shy - please jump in and post!
If this is your first visit, be sure to check out the FAQ by clicking the link above. You will have to register before you can post; click the register link above to proceed. To start viewing messages, visit our main forum, The Lounge or click on a thread title below this message.
» Recent Threads
Title, Username, & Date
Last Post
Replies
Views
Where you at, Bills bitches?

Today

06:55 AM

by

Pasta Giant Meatball

147

3,717

Ten Things About The AFC Championship: KC 38 - BUF 24

Today

06:53 AM

by

Kman34

50

1,013

So many guys had great games today.

Today

06:47 AM

by

HemiEd

41

1,061

The Bills are sad. . . Josh Allen handing out hugs, tears, and covid

Today

06:45 AM

by

Cheater5

16

495

Bills get 10 penalties on one play and mystery call on Chief's = Offsetting.

Today

06:35 AM

by

thabear04

9

113

Mahomes reacts to ESPN saying Allen and Diggs are better than Him and Reek

Today

06:32 AM

by

tyecopeland

22

898

Back to back Super Bowl rep thread

Today

06:15 AM

by

RedRaider56

71

686

Let's talk about the Tampa Bay Buccaneers ( Super Bowl Edition)

Today

06:09 AM

by

Coochie liquor

187

4,462

Fisher has a Achilles injury

Today

05:54 AM

by

srvy

81

3,234

****OFFICIAL Bills @ Chiefs AFC CHAMPIONSHIP REVENGE FOR 1993 GAME THREAD****

Today

05:37 AM

by

DTVietnam

3,537

78,388

» Online Users: 609
89 members and 520 guests
2bikemike, allen_kcCard, BeMyValentine, Cheater5, Chief Northman, chiefs1111, Chiefs42, colt459, cookster50, cooper barrett, CordMcNally, crispystl, dannybcaitlyn, Direckshun, DRU, Dschu54, DTVietnam, duncan_idaho, Earthbound, GingaChief, GMitch, HemiEd, iachief, Icon, InChiefsHeaven, istas, jamesadamic, jet62, Joe, Judge Smails, kcgizmo, kcmecker, KCUnited, Kman34, Knuckledump, lawrenceRaider, ljmhawk, Lzen, mdstu, MIAdragon, Mike in SW-MO, milkshock, mlinen, Munson, notorious, NY CHIEF, Otter, Pasta Giant Meatball, POND_OF_RED, pugsnotdrugs19, Pygamos, Radar Chief, RealSNR, RedRaider56, Renegade, RollChiefsRoll, Rukdafaidas, Sannyasi, Saulbadguy, scho63, solidgold, Spott, Superturtle, Sure-Oz, TEX, theoldcoach, TrebMaxx, trndobrd, TwistedChief, tyler360, Why Not?, wilas101, Wyatt Earp, yeti
Most users ever online was 4,753, 12-04-2015 at 09:37 PM.