» Stats
Members: 11,959
Threads: 235,059
Posts: 12,651,524

Welcome to our newest member, Angelfan61

» Welcome, guest!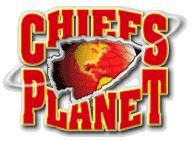 Welcome to ChiefsPlanet,
a Kansas City Chiefs Message Board
This forum is fast and furious with discussion on all variety of topics. Newbies welcomed. If you enjoy reading, don't be shy - please jump in and post!
If this is your first visit, be sure to check out the FAQ by clicking the link above. You will have to register before you can post; click the register link above to proceed. To start viewing messages, visit our main forum, The Lounge or click on a thread title below this message.
» Recent Threads
Title, Username, & Date
Last Post
Replies
Views
Patrick Chung loves cocaine

Today

08:10 PM

by

JD10367

88

2,443

Buyer Beware Nike Game jersey

Today

08:08 PM

by

Lprechaun

29

670

*****The Patrick Mahomes Thread*****

Today

08:03 PM

by

Halfcan

24,051

1,738,259

Patriots tried to get Trent Williams

Today

08:01 PM

by

JD10367

40

1,382

****OFFICIAL Raiders suck thread****

Today

07:56 PM

by

MMXcalibur

366

13,721

-- The Popeyes Chicken Sandwich Is Here to Save America

Today

07:54 PM

by

Zebedee DuBois

185

3,348

Anybody watching the Jags tonight?

Today

07:53 PM

by

Setsuna

75

1,020

Where's GONZO

Today

07:49 PM

by

Easy 6

17

653

Owner needed for $100 CP League

Today

07:49 PM

by

IowaHawkeyeChief

3

88

Ebay Scams!

Today

07:43 PM

by

GloryDayz

75

3,698

» Online Users: 965
93 members and 872 guests
007, 2bikemike, alanm, Angelfan61, Archie Bunker, Baby Lee, Beef Supreme, BigRedChief, cabletech94, CasselGotPeedOn, Cave Johnson, Chief Northman, Chief Roundup, ChiefsFanWNY, ChiliConCarnage, ClevelandBronco, Cosmos, crispystl420, CrossCheck, Donger, dtrain, FAX, Flachief58, gaston11, Gravedigger, HayWire, hometeam, Hookersnblow, Humbug, Hydrae, InChiefsHell, IowaHawkeyeChief, JD10367, KChiefs1, kcjayhawks5, kcxiv, kgchiefs, kjwood75nro, Kman34, lcarus, limested, listopencil, Lprechaun, mac459, manchambo, mdchiefsfan, MephistophelesJanx, mightyphoenix1, Miles, Misplaced_Chiefs_Fan, mlyonsd, MMXcalibur, mr. tegu, Munson, Naptown Chief, Nickhead, ping2000, Pitt Gorilla, Raiderhader, raidersnumber1, Randy the Fan, Romeo64, SAUTO, Setsuna, Shag, smithandrew051, staylor26, stevieray, ThaVirus, thawk, The GMDM Hypothesis, The Iron Chief, Third Eye, threebag02, UChieffyBugger, vailpass, wazu, WhiteWhale, yeti, Zebedee DuBois
Most users ever online was 4,753, 12-04-2015 at 09:37 PM.