» Today's Birthdays
rico (38)


» Stats
Members: 12,830
Threads: 245,655
Posts: 13,607,688

Welcome to our newest member, SibylBarre

» Welcome, guest!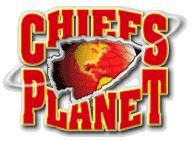 Welcome to ChiefsPlanet,
a Kansas City Chiefs Message Board
This forum is fast and furious with discussion on all variety of topics. Newbies welcomed. If you enjoy reading, don't be shy - please jump in and post!
If this is your first visit, be sure to check out the FAQ by clicking the link above. You will have to register before you can post; click the register link above to proceed. To start viewing messages, visit our main forum, The Lounge or click on a thread title below this message.
» Recent Threads
Title, Username, & Date
Last Post
Replies
Views
Chiefs will receive a 3rd round pick if Bieniemy becomes a HC

Today

08:54 AM

by

KCJake

93

2,950

Package Deal with Bienemy and Dorsey?

Today

08:52 AM

by

Hog's Gone Fishin

11

12

Frig ice maker

Today

08:37 AM

by

Otter

20

203

****The Tyreek Hill Thread***

Today

08:36 AM

by

KChiefs1

2,255

288,381

Interesting O-Line Stats

Today

08:31 AM

by

Dunerdr

13

287

***NON-POLITICAL COVID-19 Discussion Thread***

Today

08:31 AM

by

petegz28

48,263

2,382,689

Deshaun Watson is not a top 10 QB

Today

08:23 AM

by

MahomesMagic

192

6,264

Bob Kraft Busted for Soliciting Prostitution

Today

08:18 AM

by

ptlyon

1,256

104,641

Ravens/ Steelers moving to [Wednesday? Maybe? WTF knows?]

Today

08:00 AM

by

GloryDayz

240

8,375

Ellen Page is gay

Today

07:09 AM

by

kysirsoze

862

38,300

» Online Users: 379
95 members and 284 guests
AdolfOliverBush, Al Czervik, BeMyValentine, BigBeauford, bigjosh, BigRedChief, blake5676, bobhill, CanadianChief, Cave Johnson, ChiefBlueCFC, Chiefs316, ChiefsHawk, ChiliConCarnage, cmh6476, CoMoChief, cosmo20002, Cosmos, DanBecky, Dartgod, Don Corlemahomes, DRM08, duncan_idaho, F150, GloryDayz, Go Royals, Graystoke, Great8, Grim, Hog's Gone Fishin, htismaqe, Husky Jerk, Hydrae, Iowanian, kccrow, KChiefs1, KCJake, KCUnited, kepp, LittleMeatballNick, LiveSteam, loochy, louie aguiar, Lzen, Malcor, MavKC, Meatloaf, milehighkcfan, mililo4cpa, milkshock, mkp785, Molitoth, NewChief, NinerDoug, noa, O.city, Otter, petegz28, phisherman, POND_OF_RED, ptlyon, red66, rolstrol, smithandrew051, Snopes Hammer, solidgold, stevieray, Stewie, stumppy, SuperChief, Superturtle, thabear04, thebrad84, Third Eye, Titty Baby, wachashi, Wrasse, wutamess, Zebedee DuBois
Most users ever online was 4,753, 12-04-2015 at 09:37 PM.