» Stats
Members: 12,661
Threads: 243,244
Posts: 13,351,740

Welcome to our newest member, QuintonWae

» Welcome, guest!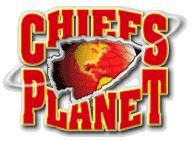 Welcome to ChiefsPlanet,
a Kansas City Chiefs Message Board
This forum is fast and furious with discussion on all variety of topics. Newbies welcomed. If you enjoy reading, don't be shy - please jump in and post!
If this is your first visit, be sure to check out the FAQ by clicking the link above. You will have to register before you can post; click the register link above to proceed. To start viewing messages, visit our main forum, The Lounge or click on a thread title below this message.
» Recent Threads
Title, Username, & Date
Last Post
Replies
Views
*****Severe Weather Thread-2020*****

Today

06:05 PM

by

displacedinMN

119

6,666

Power 5 conferences moving toward postponing 2020 NCAA football season

Today

06:03 PM

by

KCChiefsFan88

93

2,530

How good are the masks working for you

Today

06:02 PM

by

Spott

116

3,516

St. Louis Cardinals sidelined with COVID

Today

06:01 PM

by

BigRedChief

240

6,466

Updated Aerial Pic of the New Rams Stadium

Today

06:00 PM

by

KChiefs1

20

2,476

Boston.com lays down the dynasty gauntlet.

Today

05:52 PM

by

TEX

38

949

Chiefs sign Alex Okafor [restructured]

Today

05:45 PM

by

TEX

489

34,623

***NON-POLITICAL COVID-19 Discussion Thread***

Today

05:44 PM

by

dirk digler

42,337

1,523,314

Off Season Lets Talk Guns, Part 2

Today

05:39 PM

by

Megatron96

3,281

380,823

RIP former pro wrestler Kamala "The Ugandan Giant"

Today

05:38 PM

by

Munson

20

607

» Online Users: 399
99 members and 300 guests
Baby Lee, beerwolf, BigCatDaddy, BigRedChief, bloomer88, Boise_Chief, Bowser, brorth, Bump, Chief Roundup, chiefs1111, Chiefspants, cj2wr, cosmo20002, Dallas Chief, Dartgod, Dayze, DementedLogic, Discuss Thrower, displacedinMN, dj56dt58, djchief56, DrRyan, eDave, EPodolak, FlorentinePogen, GloucesterChief, Hoopsdoc, Husker, Husky Jerk, Hydrae, Icon, jayhawkkbs, jd1020, Jenson71, Jerok, KC Hawks, KCChiefsFan88, KChiefs1, KCJake, ljmhawk, Loneiguana, Lprechaun, Luv it, MagicHef, MatriculatingHank, Megatron96, meStevo, mililo4cpa, Misplaced_Chiefs_Fan, Munson, NewChief, noa, O.city, okiedokieokoye, Pablo, PAChiefsGuy, Pasta Giant Meatball, penguinz, RaytownChief, RodeoPants2, Romeo64, saphojunkie, SFfan79, Shag, slapnutz_4, ssj2, stevieray, SuperBowl4, Superturtle, TEX, treeguy27, TwistedChief, tyler360, vailpass, wazu, wheeler08, Wilson8, Wyatt Earp, yellowfin13x, Zook, |Zach|
Most users ever online was 4,753, 12-04-2015 at 09:37 PM.