» Stats
Members: 13,319
Threads: 250,619
Posts: 14,144,571

Welcome to our newest member, dameco91

» Welcome, guest!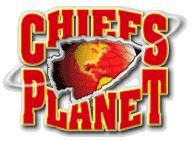 Welcome to ChiefsPlanet,
a Kansas City Chiefs Message Board
This forum is fast and furious with discussion on all variety of topics. Newbies welcomed. If you enjoy reading, don't be shy - please jump in and post!
If this is your first visit, be sure to check out the FAQ by clicking the link above. You will have to register before you can post; click the register link above to proceed. To start viewing messages, visit our main forum, The Lounge or click on a thread title below this message.
» Recent Threads
Title, Username, & Date
Last Post
Replies
Views
WTF is with Mahomes?

Today

07:42 AM

by

Rainbarrel

511

16,063

*****The Patrick Mahomes Thread*****

Today

07:40 AM

by

Red Dawg

31,727

4,850,768

Only positive today: Nick Bolton

Today

07:40 AM

by

Superturtle

48

1,514

Let's focus on some positives

Today

07:31 AM

by

Hammock Parties

42

891

What will our season W-L record

Today

07:26 AM

by

D.A.P.

48

1,253

Time to gas the plane and start printing the banner to fly over Arrowhead

Today

07:17 AM

by

65TPT

42

1,382

**** The Official Kansas City Chiefs at Tennessee Titans Game Thread ****

Today

07:12 AM

by

Jeff.Fisher

2,061

53,987

KC and Reid are not following the "Dynasty" model...

Today

07:11 AM

by

Red Dawg

70

2,289

The Motorcycle Discussion Thread

Today

07:05 AM

by

GloryDayz

2,547

365,773

The Kansas City Chiefs Are A Bad Football Team

Today

06:58 AM

by

TambaBerry

175

7,557

» Online Users: 671
93 members and 578 guests
-King-, 1963chief, 65TPT, aces and eights, arrwheader, asdf, Bearcat, BigBeauford, bigjosh, BigRedChief, BleedingRed, booyaf2, Boxer_Chief, CanadianChief, Cave Johnson, Chazno, Chief3188, ChiliConCarnage, comochiefsfan, Corandval1977, Cow Pollinator, Darien25, Dayze, Dull Tools, emaw1979, Fish, FlaChief58, FringeNC, Fritz88, frozenchief, Graystoke, Hammock Parties, hawkchief, Hawker007, HemiEd, HonestChieffan, HoneyBadger, Hydrae, iachief, IChief, Jewish Rabbi, kcbubb, kcjayhawks5, KC_Lee, KurtCobain, kysirsoze, lcarus, loochy, louie aguiar, Luv it, mac459, milkshock, MMXcalibur, mr. tegu, neblo, New World Order, Nightfyre, Old Dog, oldman, petegz28, PHOG, ptlyon, Rainbarrel, RealSNR, Red Dawg, redhed, seaofred, shakesthecat, Shields68, Simply Red, stevieray, stonedstooge, SuperChief, Superturtle, Talisman, TambaBerry, tatorhog, thabear04, The Franchise, TIED5573, Unsmooth-Moment, Vegas_Dave, wachashi, Why Not?, Wrasse
Most users ever online was 4,753, 12-04-2015 at 09:37 PM.