» Stats
Members: 11,839
Threads: 233,534
Posts: 12,524,102

Welcome to our newest member, LuckyProphets

» Welcome, guest!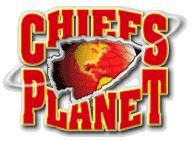 Welcome to ChiefsPlanet,
a Kansas City Chiefs Message Board
This forum is fast and furious with discussion on all variety of topics. Newbies welcomed. If you enjoy reading, don't be shy - please jump in and post!
If this is your first visit, be sure to check out the FAQ by clicking the link above. You will have to register before you can post; click the register link above to proceed. To start viewing messages, visit our main forum, The Lounge or click on a thread title below this message.
» Recent Threads
Title, Username, & Date
Last Post
Replies
Views
Rasslin is YES! YES! YES!

Today

05:43 AM

by

keg in kc

3,299

229,588

Huge Mahomo Shrags says Sammy Watkins "looks incredible"

Today

05:41 AM

by

wheeler08

18

557

Gerald McCoy being cut by the Buccaneers.

Today

05:40 AM

by

Amnorix

50

1,595

****2018-2019 Official NBA Regular season thread****

Today

05:31 AM

by

RealSNR

1,205

34,244

Omaha's Henry Doorly Zoo

Today

05:15 AM

by

InChiefsHell

78

1,458

ChiefsPlanet Spotlight: vailpass

Today

04:29 AM

by

ChiliConCarnage

14

233

Could the Chiefs and Redskins work a trade deal?

Today

01:21 AM

by

Chief Pagan

44

1,507

New Tyreek Hill Thread

Yesterday

11:17 PM

by

Sweet Daddy Hate

849

35,689

Least Deserving Hall of Famers: Indianapolis Colts and New Orleans Saints

Yesterday

10:43 PM

by

Rain Man

5

132

Pellet Grills

Yesterday

10:01 PM

by

KS Smitty

104

2,126

» Online Users: 257
49 members and 208 guests
1adam1238, Amnorix, bax_, Cheater5, chiefs1111, ChiefsHawk, ChiefsNWildcats, chinaski, Coochie liquor, Dallas Chief, Dbawse, digger, DJKid, gh4chiefs, GloryDayz, GMitch, Hawkeye54545, InChiefsHell, KCnodefense, keg in kc, lawrenceRaider, Malcor, Mizzou_8541, modocsot, montanachief, Naptown Chief, NIUhuskies, notorious, RealSNR, RubberSponge, Sannyasi, Sensual Lardass, ShiftyEyedWaterboy, slc, staylor26, stumppy, Three7s, tyreekthefreak, wazu, wheeler08, Whereizzy, yeti
Most users ever online was 4,753, 12-04-2015 at 09:37 PM.