» Stats
Members: 12,576
Threads: 241,921
Posts: 13,240,492

Welcome to our newest member, Satan

» Welcome, guest!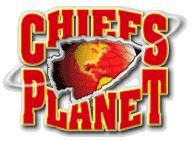 Welcome to ChiefsPlanet,
a Kansas City Chiefs Message Board
This forum is fast and furious with discussion on all variety of topics. Newbies welcomed. If you enjoy reading, don't be shy - please jump in and post!
If this is your first visit, be sure to check out the FAQ by clicking the link above. You will have to register before you can post; click the register link above to proceed. To start viewing messages, visit our main forum, The Lounge or click on a thread title below this message.
» Recent Threads
Title, Username, & Date
Last Post
Replies
Views
Is Mahomes taking the "Jordan" approach?

Today

10:10 AM

by

SAGA45

56

527

Interstate Road Trip Tournament, Round 2, Heat 5.

Today

09:55 AM

by

Old Dog

9

116

Space Exploration megathread

Today

09:54 AM

by

Donger

2,993

296,051

"George Kittle is the best TE in the NFL"

Today

09:09 AM

by

OrtonsPiercedTaint

62

2,460

***NON-POLITICAL COVID-19 Discussion Thread***

Today

09:06 AM

by

Bob Dole

34,112

1,015,353

Do athlete salaries bother you?

Today

09:04 AM

by

njchiefs

101

2,147

Juggsica Simpson

Today

08:49 AM

by

scho63

890

192,613

Go Chargers

Today

08:15 AM

by

Naptown Chief

20

1,858

Add Three Words

Today

07:03 AM

by

Naptown Chief

7,546

456,787

This pandemic has really created opportunity

Today

04:58 AM

by

Flying High D

11

716

» Online Users: 602
86 members and 516 guests
Al Czervik, AndChiefs, BDj23, big nasty kcnut, BigRichard, Bowser, candyman, CasselGotPeedOn, Chief3188, chiefs1959, Chiefspants, dlphg9, Donger, FAH-Q, Fansy the Famous Bard, Fish, Flying High D, GloucesterChief, GMitch, Great8, Indian Chief, IowaHawkeyeChief, Jewish Rabbi, Judge Smails, KC-TBB, kcjayhawks5, KCnodefense, KCUnited, Kellerfox, kmac, KurtCobain, Lennie Briscoe, Lilmrp117, Meatloaf, Merde Furieux, MIAdragon, mililo4cpa, milkshock, Mizzou_8541, Munson, neblo, otherstar, Otter, Over Yonder, Pablo, PhillyChiefFan, PHOG, POND_OF_RED, Prison Bitch, Rain Man, RaytownChief, RodeoPants2, rolstrol, rydogg58, SAGA45, Saleenman607, SeattleChiefFan, SFfan79, Sideburn, smithandrew051, Snopes Hammer, staylor26, Stinger, stumppy, Superturtle, The Franchise, TrebMaxx, Ubeja Vontell, UChieffyBugger, WhawhaWhat, YayMike
Most users ever online was 4,753, 12-04-2015 at 09:37 PM.