» Stats
Members: 13,484
Threads: 252,343
Posts: 14,340,942

Welcome to our newest member, 13Seconds

» Welcome, guest!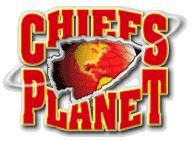 Welcome to ChiefsPlanet,
a Kansas City Chiefs Message Board
This forum is fast and furious with discussion on all variety of topics. Newbies welcomed. If you enjoy reading, don't be shy - please jump in and post!
If this is your first visit, be sure to check out the FAQ by clicking the link above. You will have to register before you can post; click the register link above to proceed. To start viewing messages, visit our main forum, The Lounge or click on a thread title below this message.
» Recent Threads
Title, Username, & Date
Last Post
Replies
Views
Broncos news megathread

Today

08:13 AM

by

TEX

41,063

5,096,433

Any news on the Honey Badger?

Today

08:12 AM

by

dannybcaitlyn

205

7,936

*****The Patrick Mahomes Thread*****

Today

08:11 AM

by

ThaVirus

32,468

5,278,662

We've got birthdays to celebrate today!

Today

08:07 AM

by

lewdog

4

17

***Official 2022 Royals Season Repository Thread***

Today

08:07 AM

by

duncan_idaho

71

2,841

Brittany Matthews and Jackson

Today

08:07 AM

by

Molitoth

363

6,809

Travis Kelce had the Mic against the Bills - Count on Me Dawg **VIDEO**

Today

08:06 AM

by

DTVietnam

13

329

Pat McAfee reacts to the game winning Touchdown

Today

07:56 AM

by

DTVietnam

68

2,456

Anybody Know about Insurance Adjusters

Today

07:48 AM

by

htismaqe

12

176

Odds for who is coaching next:

Today

07:43 AM

by

Direckshun

67

2,231

» Online Users: 915
114 members and 801 guests
-King-, 2bikemike, 64 Chief, ArrowheadHawk, Azide22, backinblack, baitism, bax_, bgguitarman, BigRedChief, Captain Obvious, CasselGotPeedOn, cb15, Cheater5, ChiefEd, Chiefs42, Chitownchiefsfan, Chris Meck, chrismsales, Clyde Frog, Coochie liquor, cripple creek, Curé, Dalex, Dallas Chief, dannybcaitlyn, Dartgod, DC_Chief, Direckshun, dlphg9, DTVietnam, duncan_idaho, emaw82, FlaChief58, frank58, Frosty, Grim, Hailchief, hawkchief, htismaqe, jet62, jjkrueg, JPH83, Juan Time, KCnodefense, KCUnited, kgrund, kysirsoze, louie aguiar, Luv it, mac459, MahomesMagic, MIAdragon, mikeboogie, Molitoth, mr. tegu, mrbiggz, NEOM, New World Order, OldMan22, osumatt, Otis Day, PattyFlakes, PHOG, ping2000, ptlyon, Radar Chief, RaidersOftheCellar, Red Beans, redhed, ReynardMuldrake, rocknrolla, ROYC75, Sensual Lardass, Shaid, Spott, stevieray, stonedstooge, stumppy, Superbowltrashcan, SuperChief, Superturtle, Talisman, TambaBerry, TEX, ThaVirus, The Franchise, threebag02, wachashi, Wally, wazu, Why Not?, YayMike, Zook
Most users ever online was 4,753, 12-04-2015 at 09:37 PM.