» Today's Birthdays
Scaga (53)


» Stats
Members: 12,789
Threads: 244,900
Posts: 13,522,501

Welcome to our newest member, anaschiefs

» Welcome, guest!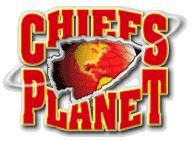 Welcome to ChiefsPlanet,
a Kansas City Chiefs Message Board
This forum is fast and furious with discussion on all variety of topics. Newbies welcomed. If you enjoy reading, don't be shy - please jump in and post!
If this is your first visit, be sure to check out the FAQ by clicking the link above. You will have to register before you can post; click the register link above to proceed. To start viewing messages, visit our main forum, The Lounge or click on a thread title below this message.
» Recent Threads
Title, Username, & Date
Last Post
Replies
Views
Collinsworth with high praise for Eric Bieniemy

Today

11:37 AM

by

htismaqe

57

1,221

Should Le' Veon take over as RB1?

Today

11:36 AM

by

htismaqe

107

2,441

Nick Foles shit all over Matt Nagy...

Today

11:35 AM

by

BossChief

58

553

***NON-POLITICAL COVID-19 Discussion Thread***

Today

11:28 AM

by

petegz28

45,726

2,072,303

Suicide

Today

11:25 AM

by

gblowfish

87

2,230

Guess the Jets vs Chiefs spread

Today

11:22 AM

by

PutQuinnIn

106

2,580

Jets had 4 yards of total offense in the 2nd half...

Today

11:20 AM

by

htismaqe

27

660

*** Monday Night Football - Bears @ Rams ***

Today

11:17 AM

by

htismaqe

153

2,127

Late night bullshit: We may have a Damien Wilson problem.

Today

11:17 AM

by

DaneMcCloud

40

1,074

Everson Griffen is available...

Today

11:12 AM

by

BossChief

22

614

» Online Users: 544
129 members and 415 guests
007, AdolfOliverBush, alpha_omega, arrwheader, asdf, backinblack, BanHam, bax_, Bearcat, BigBeauford, BigCatDaddy, Boiled Chicken, BossChief, brorth, burt, BWillie, carcosa, carlos3652, Chief Northman, colt459, comochiefsfan, Corandval1977, cosmo20002, Craash, Dalex, dlphg9, Donger, duncan_idaho, FAX, FD, ForeverIowan, GloryDayz, GloucesterChief, Go Royals, Great8, Hailchief, Hammock Parties, hawkchief, HayWire, htismaqe, iachief, Iowanian, ISUJeff, jamesadamic, Jerok, jjchieffan, JohnnyHammersticks, KC Hawks, KCChiefsFan88, KCnodefense, KCUnited, KS Smitty, LoneWolf, loochy, mac459, MagicHef, MahiMike, MahomesMagic, Malcor, Mephistopheles Janx, Merde Furieux, MIAdragon, Misplaced_Chiefs_Fan, montanamike, Mr_Tomahawk, Mugalug, neblo, nieuport17.1977, Ninerfan11, noa, O.city, okcchief, old_geezer, Pasta Giant Meatball, petegz28, philfree, phisherman, ptlyon, Rasputin, Red Beans, Red Dawg, RedRaider56, RockChalk, RubberSponge, SBLIVchamps, shakesthecat, Shoes, smithandrew051, Sorce, Spott, St. Patty's Fire, stonedstooge, strokerls1, stumppy, Superturtle, suzzer99, TambaBerry, tatorhog, TEX, TexasChief, TrebMaxx, Ubeja Vontell, WarChiefs89, yeti, Zook
Most users ever online was 4,753, 12-04-2015 at 09:37 PM.