» Today's Birthdays
Jmart (48)


» Stats
Members: 12,134
Threads: 236,537
Posts: 12,785,101

Welcome to our newest member, TechnicolorMan

» Welcome, guest!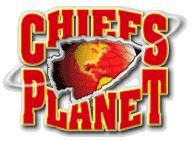 Welcome to ChiefsPlanet,
a Kansas City Chiefs Message Board
This forum is fast and furious with discussion on all variety of topics. Newbies welcomed. If you enjoy reading, don't be shy - please jump in and post!
If this is your first visit, be sure to check out the FAQ by clicking the link above. You will have to register before you can post; click the register link above to proceed. To start viewing messages, visit our main forum, The Lounge or click on a thread title below this message.
» Recent Threads
Title, Username, & Date
Last Post
Replies
Views
Mahomes Injury

Today

01:37 PM

by

DaFace

669

35,355

Bayless with great explanation on why QB Sneak call was okay....

Today

01:36 PM

by

DaFace

35

326

Damien Williams: is it time for a change?

Today

01:31 PM

by

JakeF

79

1,791

Trying to find any silver lining

Today

01:28 PM

by

bevischief

39

791

Matty "Midnight Hour" Moore

Today

01:27 PM

by

Megatron96

55

1,243

ChiefsPlanet Spotlight: KurtCobain

Today

01:18 PM

by

candyman

52

931

Describe your feeling when Mahomes was down.

Today

01:13 PM

by

Otter

101

1,781

The CALL has gone out!

Today

12:39 PM

by

scho63

44

1,591

SHOULD we make any moves before the deadline?

Today

12:37 PM

by

Dunerdr

57

2,023

*****The Patrick Mahomes Thread*****

Today

12:28 PM

by

PhillyChiefFan

25,338

1,945,646

» Online Users: 1,070
97 members and 973 guests
44yearsandcounting, 65TPT, baitism, BanHam, BeMyValentine, bevischief, bigjosh, BigRedChief, brorth, C3HIEF3S, candyman, CasselGotPeedOn, Cave Johnson, Chargem, Chief Northman, Chief Roundup, Chiefspants, ChiliConCarnage, Chris Meck, Chromeo, Cow Pollinator, Dallas Chief, Dartgod, Dawson4004, dlphg9, Dunerdr, eDave, FlorentinePogen, ForeverChiefs58, gh4chiefs, GloucesterChief, HC_Chief, HemiEd, Hound333, JakeF, Jewish Rabbi, jjchieffan, KC-TBB, kcclone, KCFalcon59, kcfan75, kcjayhawks5, KCUnited, Ken Bone, kjwood75nro, Lennie Briscoe, LoneWolf, Megatron96, MephistophelesJanx, MIAdragon, milehighkcfan, montanachief, New World Order, Nickhead, nieuport17.1977, noa, okie-dokie, Prison Bitch, pugsnotdrugs19, Randy the Fan, rico, RubberSponge, rydogg58, sam_I_am, Scorp, solidgold, steelyeyed57, stumpel15, stumppy, SupDock, suzzer99, The Franchise, TwistedChief, UChieffyBugger, Warrior5, Whereizzy, wilas101, wolfeman59, xztop123, yeti
Most users ever online was 4,753, 12-04-2015 at 09:37 PM.