» Stats
Members: 13,039
Threads: 247,507
Posts: 13,810,400

Welcome to our newest member, HeleneBara

» Welcome, guest!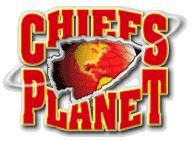 Welcome to ChiefsPlanet,
a Kansas City Chiefs Message Board
This forum is fast and furious with discussion on all variety of topics. Newbies welcomed. If you enjoy reading, don't be shy - please jump in and post!
If this is your first visit, be sure to check out the FAQ by clicking the link above. You will have to register before you can post; click the register link above to proceed. To start viewing messages, visit our main forum, The Lounge or click on a thread title below this message.
» Recent Threads
Title, Username, & Date
Last Post
Replies
Views
Sandbox Simulations is open for business! Sign up now!

Today

10:18 PM

by

Rain Man

3,270

201,358

Dak Wants Cowboys To Pay Him 'Right Behind Mahomes' - And Pay Him 'Respect'

Today

10:18 PM

by

dlphg9

18

244

Investing megathread extravaganza

Today

10:14 PM

by

displacedinMN

8,089

953,984

JJ Watt released

Today

10:13 PM

by

Baby Lee

489

19,514

Veach: Fisher Projected as a Mid-August Return

Today

09:57 PM

by

Tribal Warfare

40

1,104

I want to show you my newest sports card...

Today

09:56 PM

by

kevrunner

388

36,590

Not-Politics "Awesome Meme" Thread

Today

09:36 PM

by

GloryDayz

1,138

167,705

***Official 2021 Royals Season Repository Thread***

Today

09:36 PM

by

Ocotillo

322

17,132

Updates regarding the 17 Game Schedule in 2021 from Peter King

Today

09:25 PM

by

RunKC

58

1,287

2021 General Fitness thread

Today

08:48 PM

by

lewdog

177

6,959

» Online Users: 349
66 members and 283 guests
2bikemike, A Salt Weapon, aces and eights, arrwheader, Baby Lee, BWillie, Captain Obvious, CasselGotPeedOn, colt459, dgeeze, displacedinMN, dlphg9, EPodolak, frozenchief, GloryDayz, Hog's Gone Fishin, jackkked, JohnnyV13, JudasRising20, KC Hawks, KCChiefsFan88, kcclone, KCJake, Kman34, LiveSteam, LOCOChief, louie aguiar, Macroach, Malcor, Marco Polo, MMXcalibur, mr. tegu, Ocotillo, OKchiefs, Papi, philfree, PhishyMatt, Pogue, POND_OF_RED, Rain Man, Rasputin, RealSNR, Redbled, RodeoPants2, Roy Munson, sedated, shitgoose, staylor26, stumppy, Superturtle, The Franchise, vachief58, vailpass, Vegas_Dave, wazu, wheeler08
Most users ever online was 4,753, 12-04-2015 at 09:37 PM.