» Stats
Members: 12,421
Threads: 239,708
Posts: 13,043,690

Welcome to our newest member, beancounter

» Welcome, guest!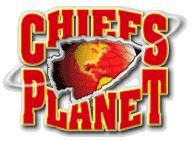 Welcome to ChiefsPlanet,
a Kansas City Chiefs Message Board
This forum is fast and furious with discussion on all variety of topics. Newbies welcomed. If you enjoy reading, don't be shy - please jump in and post!
If this is your first visit, be sure to check out the FAQ by clicking the link above. You will have to register before you can post; click the register link above to proceed. To start viewing messages, visit our main forum, The Lounge or click on a thread title below this message.
» Recent Threads
Title, Username, & Date
Last Post
Replies
Views
Truly difficult Chiefs Trivia

Today

09:26 PM

by

cdcox

51

1,006

2019 Nascar thread

Today

09:23 PM

by

Demonpenz

96

5,863

*****The Patrick Mahomes Thread*****

Today

09:22 PM

by

eDave

27,074

2,318,680

Chiefs All-Decade Team - Center

Today

09:22 PM

by

Rain Man

13

133

Anyone have an Air Fryer

Today

09:20 PM

by

F150

87

5,401

Super Bowl gear thread!!!

Today

09:18 PM

by

chiefshead33

350

12,935

Is Vegas Dave letting us sleep over during the raiders game

Today

09:09 PM

by

Kman34

10

216

How often do you wash your coat?

Today

09:02 PM

by

Jewish Rabbi

42

571

Sandbox Simulations is open for business! Sign up now!

Today

08:58 PM

by

Hammock Parties

2,897

95,692

How often do you wash your ASS?

Today

08:50 PM

by

Ubeja Vontell

23

358

» Online Users: 773
91 members and 682 guests
"Bob" Dobbs, AJKCFAN, AndChiefs, backinblack, baitism, big nasty kcnut, bsp4444, CaliforniaChief, CapsLockKey, CasselGotPeedOn, Chiefaholic, ChiefsCountry, chiefsfan58, chiefshead33, Colt4540, Dave Lane, Demonpenz, dlphg9, DRM08, DrRyan, eDave, F150, FlintHillsChiefs, funkymunk, gaston11, GloryDayz, GloucesterChief, GMitch, grandllama, Groves, Hammock Parties, Husker, iachief, IChief, Iconic, InChiefsHeaven, Jewish Rabbi, jjchieffan, KC Hawks, kc rush, kcgreene, KCnodefense, Kellerfox, listopencil, LiveSteam, MAG, MahomesKnows, Mennonite, Misplaced_Chiefs_Fan, mlyonsd, mnchiefsguy, nbkc fan, NewChief, old_geezer, Pablo, petegz28, ping2000, pkane, Rain Man, RealSNR, RodeoPants2, slc, Snopes Hammer, Spott, Sure-Oz, TexasChief, ThaVirus, The Rick, theoldcoach, Tinker Dill, Ubeja Vontell, vailpass, Zeke Ziggle
Most users ever online was 4,753, 12-04-2015 at 09:37 PM.