» Stats
Members: 12,744
Threads: 244,215
Posts: 13,448,482

Welcome to our newest member, llmontague26@gmail

» Welcome, guest!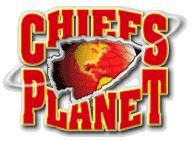 Welcome to ChiefsPlanet,
a Kansas City Chiefs Message Board
This forum is fast and furious with discussion on all variety of topics. Newbies welcomed. If you enjoy reading, don't be shy - please jump in and post!
If this is your first visit, be sure to check out the FAQ by clicking the link above. You will have to register before you can post; click the register link above to proceed. To start viewing messages, visit our main forum, The Lounge or click on a thread title below this message.
» Recent Threads
Title, Username, & Date
Last Post
Replies
Views
Sneed: Broken Collarbone

Today

09:19 AM

by

Simply Red

51

1,046

Where will EB end up at as a HC ?

Today

09:19 AM

by

htismaqe

77

1,060

Chris Simms postgame Chiefs vs Ravens commentary

Today

09:19 AM

by

alpha_omega

9

655

Anthony Lynn says Chargers are going back to Tyrod

Today

09:18 AM

by

chiefzilla1501

154

3,323

Uh oh: Titans have multiple COVID positives, building shut down until Saturday

Today

09:16 AM

by

Superturtle

128

4,582

2020 Royals Official Offseason/Season Repository

Today

09:15 AM

by

CasselGotPeedOn

1,969

134,033

Can we end this silly Darwin Thompson experiment please..

Today

09:08 AM

by

Pasta Giant Meatball

190

4,275

Mahomes is going to be a father!

Today

08:53 AM

by

Deberg_1990

112

3,455

*****The Patrick Mahomes Thread*****

Today

07:41 AM

by

BigRedChief

28,780

3,052,092

*****The Mike Danna Thread*****

Today

07:32 AM

by

PurpleRiders51

170

14,451

» Online Users: 452
119 members and 333 guests
-King-, A8bil, AdolfOliverBush, alpha_omega, Baby Lee, backinblack, bax_, bdlangton, BigBeauford, BigCatDaddy, BigRichard, Boise_Chief, Bowser, BOXERAJ, carcosa, CasselGotPeedOn, Chief3188, chiefs1okie, Chiefs4TheWin, chiefzilla1501, cosmo20002, cron912, Dante84, Dayze, Detoxing, DJ's left nut, Donger, duncan_idaho, Dunerdr, Eureka, Fansy the Famous Bard, Fish, GloryDayz, Go Royals, golfindude, gpsdude, HC_Chief, Hoopsdoc, htismaqe, InChiefsHeaven, Infidel Goat, Javabean, jayhawksandchiefs, Jewish Rabbi, kc-nd, kcfan75, KCUnited, KCwolf, KC_Lee, Kellerfox, kgrund, KS Smitty, LiveSteam, LOCOChief, MahiMike, Mahomes007, milkshock, Mr. Plow, mrbiggz, neblo, noa, O.city, Otis Day, PAChiefsGuy, Pants, Pasta Giant Meatball, petegz28, PHANTOM, philfree, PhillyChiefFan, phisherman, ping2000, ptlyon, pugsnotdrugs19, ralittleus, Randallflagg, Realbaddog, Red Beans, redhed, Renegade, RockChalk, RodeoPants2, SCTrojan, sedated, SFfan79, Shaid, Simply Red, SithCeNtZ, sparky454, St. Patty's Fire, staylor26, steelyeyed57, sully1983, Superturtle, ThaVirus, theakamu, thebrad84, TNTEICHER, TrebMaxx, tredadda, UChieffyBugger, Vegas_Dave, Wallcrawler, Yosef_Malkovitch, Zeke Ziggle
Most users ever online was 4,753, 12-04-2015 at 09:37 PM.