» Stats
Members: 12,175
Threads: 237,060
Posts: 12,836,238

Welcome to our newest member, You See Us

» Welcome, guest!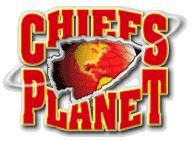 Welcome to ChiefsPlanet,
a Kansas City Chiefs Message Board
This forum is fast and furious with discussion on all variety of topics. Newbies welcomed. If you enjoy reading, don't be shy - please jump in and post!
If this is your first visit, be sure to check out the FAQ by clicking the link above. You will have to register before you can post; click the register link above to proceed. To start viewing messages, visit our main forum, The Lounge or click on a thread title below this message.
» Recent Threads
Title, Username, & Date
Last Post
Replies
Views
**** MNF 11/11 Seahawks @ 49ers ****

Today

08:58 PM

by

MAHOMO 4 LIFE!

85

952

Insiders: Andy and Mahomes upset/mad

Today

08:58 PM

by

Marcellus

530

12,237

AFC Playoff Picture tracker

Today

08:57 PM

by

chiefqueen

148

6,347

Broncos news megathread

Today

08:57 PM

by

TEX

36,322

2,482,737

Amazon founder Jeff Bezos interested in owning NFL team, has strong support.

Today

08:53 PM

by

Eureka

48

840

Chiefs defense is the laughing stock of league

Today

08:51 PM

by

Chief Northman

93

1,849

How long will Mahomes wait for Andy to get his act together?

Today

08:50 PM

by

Sweet Daddy Hate

102

2,318

can we please stop talking about time of possession? Please?

Today

08:45 PM

by

IUsedToBeATightEnd

176

2,776

Damien Williams: is it time for a change?

Today

08:44 PM

by

Chief Northman

244

7,241

Does the D deserve the least amount of blame?

Today

08:39 PM

by

FAX

36

606

» Online Users: 605
118 members and 487 guests
-King-, alanm, arrwheader, Bewbies, BigBeauford, BigRedChief, BossChief, Boxers11, Buns, CapsLockKey, CasselGotPeedOn, Chief Northman, chiefqueen, ChiefsCountry, Chiefshrink, chiefzilla1501, ClevelandBronco, Clyde Frog, Coochie liquor, cosmo20002, CrookedTrump, CrossCheck, Donger, DTVietnam, eDave, elgatogrande, Eureka, FAX, Fish, Flying High D, Gdawg, Groves, HemiEd, InChiefsHell, IUsedToBeATightEnd, JakeF, Jamie, Jerm, Jerok, jerryaldini, jet62, jjkrueg, Juan Time, KCFalcon59, Lilmrp117, LongSufferingToady, macho GRANDE, MAHOMO 4 LIFE!, Marcellus, MartinThore, mdstu, Megatron96, MephistophelesJanx, mightyphoenix1, Mile High Mania, mililo4cpa, mlyonsd, montanachief, NashvilleRock.net, NJChiefsFan, notorious, okchiefsfan, Pablo, Pants, PHOG, Prison Bitch, ptlyon, pugsnotdrugs19, RaytownChief, Red Dawg, red66, richpjr, rolstrol, Ron Swanson, ROYC75, RunKC, shakesthecat, Showtime, shrlked, Sig, Sofa King, staylor26, Stinger, Streams of Whiskey, stumppy, suzzer99, Sweet Daddy Hate, TEX, TheMartyr, threebag02, Titty Baby, Toto, TravelingChiefs, treeguy27, Wallcrawler, wazu, Wrasse, yeti, You See Us
Most users ever online was 4,753, 12-04-2015 at 09:37 PM.