» Today's Birthdays
Rausch (44)


» Stats
Members: 12,782
Threads: 244,818
Posts: 13,512,723

Welcome to our newest member, freestown7

» Welcome, guest!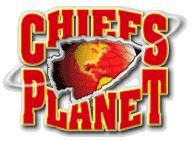 Welcome to ChiefsPlanet,
a Kansas City Chiefs Message Board
This forum is fast and furious with discussion on all variety of topics. Newbies welcomed. If you enjoy reading, don't be shy - please jump in and post!
If this is your first visit, be sure to check out the FAQ by clicking the link above. You will have to register before you can post; click the register link above to proceed. To start viewing messages, visit our main forum, The Lounge or click on a thread title below this message.
» Recent Threads
Title, Username, & Date
Last Post
Replies
Views
Tell me about your bed.

Today

09:15 PM

by

loochy

59

888

Are you in favor of releasing Tyreek Hill?

Today

09:01 PM

by

srvy

1,076

79,382

Dana Stubblefield to miss future 49ers reunions. (Because prison.)

Today

08:55 PM

by

Pitt Gorilla

49

1,326

Let discuss Tommy Townsend

Today

08:52 PM

by

penchief

39

1,081

***The Official MMA Thread***

Today

08:51 PM

by

JohnnyHammersticks

9,210

1,175,942

Antonio Brown signing with Buccaneers

Today

08:40 PM

by

St. Patty's Fire

110

2,239

Chiefs christened the new ďAmericaís TeamĒ

Today

08:37 PM

by

Wisconsin_Chief

41

1,247

Let's talk about the Broncos

Today

08:12 PM

by

mlyonsd

228

6,988

Official 2020 MLB playoffs thread

Today

08:01 PM

by

DaneMcCloud

132

2,307

Not-Politics "Awesome Meme" Thread

Today

07:32 PM

by

Baby Lee

979

121,583

» Online Users: 353
76 members and 277 guests
44yearsandcounting, alanm, Archie Bunker, Baby Lee, backinblack, beach tribe, BigCatDaddy, Buehler445, cabletech94, CaliforniaChief, CarlosCarson88, Chiefs42, Chiefsfan1, chiefzilla1501, cj2wr, cooper barrett, cosmo20002, CrossCheck, Dallas Chief, deadbabyseal, displacedinMN, dj56dt58, DRM08, El Lobo Gordo, Fish, Fishpicker, ForeverIowan, gh4chiefs, Goldentriangle, Graystoke, Hays, IowaHawkeyeChief, Jewish Rabbi, jswizzle6, jynni, kcfan75, kevrunner, Kman34, KS Smitty, loochy, MAHOMO 4 LIFE!, Megatron96, mr. tegu, Munson, nhaaser, nieuport17.1977, NinerDoug, noa, OldMan22, Pants, Pasta Giant Meatball, philfree, Prison Bitch, Raiderhader, RaidersOftheCellar, Rasputin, RodeoPants2, Shields68, Sofa King, St. Patty's Fire, stumppy, sxrich, TJW, Ubeja Vontell
Most users ever online was 4,753, 12-04-2015 at 09:37 PM.