» Today's Birthdays
DMAC (40)


» Stats
Members: 12,028
Threads: 235,756
Posts: 12,716,664

Welcome to our newest member, Pcojr58

» Welcome, guest!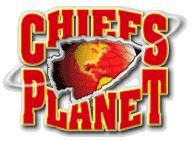 Welcome to ChiefsPlanet,
a Kansas City Chiefs Message Board
This forum is fast and furious with discussion on all variety of topics. Newbies welcomed. If you enjoy reading, don't be shy - please jump in and post!
If this is your first visit, be sure to check out the FAQ by clicking the link above. You will have to register before you can post; click the register link above to proceed. To start viewing messages, visit our main forum, The Lounge or click on a thread title below this message.
» Recent Threads
Title, Username, & Date
Last Post
Replies
Views
****The Official 2019 STL Cardinals Thread****

Today

05:21 PM

by

Jewish Rabbi

1,852

87,675

Patriot defense

Today

05:20 PM

by

pugsnotdrugs19

22

23

*****The Patrick Mahomes Thread*****

Today

05:19 PM

by

Tribal Warfare

24,545

1,849,645

Late Games Thread

Today

05:19 PM

by

DrunkBassGuitar

120

1,058

Week 4: Let's talk about the Lions

Today

05:18 PM

by

pugsnotdrugs19

51

1,039

Broncos news megathread

Today

05:12 PM

by

TEX

35,517

2,343,688

Schefter: Jalen Ramsey has asked for a trade

Today

05:12 PM

by

Setsuna

5,415

223,372

****The Official Ravens @ Chiefs Gameday Thread****

Today

05:11 PM

by

BWillie

2,777

53,070

Funny MahomesSyndrome commercial for NFL on CBS

Today

05:08 PM

by

ChiTown

1

2

Frank Clark ****ing sucks

Today

05:04 PM

by

Chiefshrink

362

12,285

» Online Users: 657
169 members and 488 guests
2bikemike, 493rd, acsimon, alanm, Ash, Baby Lee, beerwolf, BigBeauford, bigjosh, Boiled Chicken, brorth, bsp4444, Bump, BWillie, Camaro, carcosa, CasselGotPeedOn, Chief Roundup, Chiefaholic, chiefs1111, chiefs1okie, ChiefsChick23, ChiefsHawk, Chiefshrink, Coach, Cosmos, Craash, DanT, Dante84, Dartgod, Detoxing, displacedinMN, DRM08, DrunkBassGuitar, DTVietnam, Dunerdr, eDave, el borracho, EMAW24, emaw82, fairladyZ, Fat Elvis, FAX, Fezzic, FlorentinePogen, ForeverChiefs58, gonefishin53, grandllama, Great Expectations, Hailchief, Hammock Parties, Hog's Gone Fishin, HoneyBadger, Humbug, InChiefsHell, Iowanian, jackkked, JakeF, Jewish Rabbi, JohnnyHammersticks, jonzie04, Juan Time, kcclone, KCFalcon59, kcwolf84, KC_Connection, KC_Lee, kgrund, KGSoloman5k, King slayer, King_Chief_Fan, Kman34, kysirsoze, lawrenceRaider, Lilmrp117, LOCOChief, Los Pollos Hermanos, Lprechaun, Luv it, MahiMike, Mahomes_Is_God, Mahomey, MAHOMO 4 LIFE!, Marco Polo, MartinThore, Megbert, MIAdragon, mightyphoenix1, milkman, mlinen, Mr. Plow, MTG#10, Munson, Nalpak03, New World Order, Nickhead, NIUhuskies, noa, nychief, okcchief, OKchiefs, oldandslow, PHOG, Prison Bitch, pugsnotdrugs19, RaidersOftheCellar, redfriday, RedRaider56, RetiredSeniorChief, Robio9, RodeoPants2, Ron Swanson, sd4chiefs, SDChiefs, seamonster, Setsuna, Showtime, Sig, smithandrew051, Sofa King, solidgold, soonersfreak, Sorce, St. Patty's Fire, staylor26, Superturtle, suzzer99, TEX, ThaVirus, The Franchise, The GMDM Hypothesis, theoldcoach, Tinker Dill, tmax63, Toad, TravelingChiefs, TrebMaxx, TwistedChief, Vox Romantic, Warpaint69, wazu, Wilson8, Yehoodi, yeti, Zook
Most users ever online was 4,753, 12-04-2015 at 09:37 PM.