» Stats
Members: 13,484
Threads: 252,343
Posts: 14,341,006

Welcome to our newest member, 13Seconds

» Welcome, guest!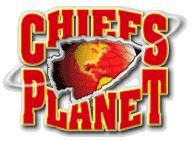 Welcome to ChiefsPlanet,
a Kansas City Chiefs Message Board
This forum is fast and furious with discussion on all variety of topics. Newbies welcomed. If you enjoy reading, don't be shy - please jump in and post!
If this is your first visit, be sure to check out the FAQ by clicking the link above. You will have to register before you can post; click the register link above to proceed. To start viewing messages, visit our main forum, The Lounge or click on a thread title below this message.
» Recent Threads
Title, Username, & Date
Last Post
Replies
Views
Anybody Know about Insurance Adjusters

Today

08:50 AM

by

chiefzilla1501

18

176

Should the Bills have onside kicked to start OT?

Today

08:49 AM

by

wazu

17

240

Chiefs Trade for OT Orlando Brown

Today

08:47 AM

by

smithandrew051

2,702

189,943

ROLL CALL: AFC CHAMPIONSHIP GAME (X4)

Today

08:45 AM

by

Pasta Little Brother

166

3,202

Broncos news megathread

Today

08:44 AM

by

dirk digler

41,083

5,096,433

Byron Leftwich expected to be Jags new coach

Today

08:40 AM

by

Superturtle

33

901

Odds for who is coaching next:

Today

08:31 AM

by

FlaChief58

70

2,231

Travis Kelce had the Mic against the Bills - Count on Me Dawg **VIDEO**

Today

08:28 AM

by

Curé

14

329

Any news on the Honey Badger?

Today

08:12 AM

by

dannybcaitlyn

205

7,936

*****The Patrick Mahomes Thread*****

Today

08:11 AM

by

ThaVirus

32,468

5,278,662

» Online Users: 950
122 members and 828 guests
2bikemike, 493rd, backinblack, Barret, BeMyValentine, BigRichard, bloomer88, bobhill, Boise_Chief, booyaf2, Brody Wa, Buehler445, CasselGotPeedOn, Chazno, Chicago_Bronco, Chief Redmen, ChiefBlueCFC, ChiefsCountry, Chiefsfan12, ChiefsFan123456, ChiefsFanatic, chiefzilla1501, Cosmos, CrossCheck, Dante84, Discuss Thrower, DJ's left nut, dj562006, dtforever, DTHOF, El Jefe, Eureka, F150, farmerchief, FlaChief58, Goldmember, Hailchief, htismaqe, iachief, IowaHawkeyeChief, Iron Chef, Juan Time, kcbubb, KCUnited, Kellerfox, kgrund, kpic, kysirsoze, listopencil, Loneiguana, loochy, Luv it, mac459, MahomesKnows, Malcor, Meatloaf, Megatron96, Mike in SW-MO, Mizzou_8541, mlyonsd, Mr. Plow, nbkc fan, New World Order, NJChiefsFan27, osumatt, Pasta Little Brother, petegz28, PHOG, ping2000, POND_OF_RED, ptlyon, RealSNR, Red Beans, red66, redhed, Renegade, ROYC75, RunKC, seaofred, Sensual Lardass, shitgoose, smithandrew051, SNAFU, Sofa King, Spott, staylor26, stevieray, stumppy, SuperChief, Superturtle, sxrich, ThaVirus, thechiefhusker, threebag02, Tonka83, tooge, tredadda, treeguy27, TwistedChief, unothadeal, wachashi, Wally, wazu, WhitiE, Wrasse, wutamess
Most users ever online was 4,753, 12-04-2015 at 09:37 PM.