» Stats
Members: 11,906
Threads: 234,393
Posts: 12,595,419

Welcome to our newest member, Rangecontrol

» Welcome, guest!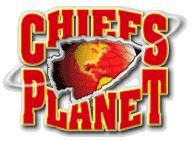 Welcome to ChiefsPlanet,
a Kansas City Chiefs Message Board
This forum is fast and furious with discussion on all variety of topics. Newbies welcomed. If you enjoy reading, don't be shy - please jump in and post!
If this is your first visit, be sure to check out the FAQ by clicking the link above. You will have to register before you can post; click the register link above to proceed. To start viewing messages, visit our main forum, The Lounge or click on a thread title below this message.
» Recent Threads
Title, Username, & Date
Last Post
Replies
Views
*** Official 2019 Kansas City Royals Repository ***

Today

02:44 PM

by

dlphg9

2,441

113,164

Another hot teacher caught having sex with student

Today

02:43 PM

by

TimBone

3,724

662,978

-- Hi Ultra Peanut

Today

02:37 PM

by

TLO

3

4

Next 007 to be a black woman

Today

02:27 PM

by

TLO

80

2,015

*****The Patrick Mahomes Thread*****

Today

02:23 PM

by

St. Patty's Fire

23,477

1,582,639

ONE HILLUVA STORY - HOW TYREEK IS NOT ONLY INNOCENT – HE IS A VICTIM

Today

02:10 PM

by

stumppy

3,248

127,049

Alex Smith unlikely to ever play again

Today

02:04 PM

by

Rawlsian

170

12,073

BREAKING NEWS: Chicago White Sox to put up netting all the way to foul poul

Today

02:03 PM

by

suzzer99

173

6,619

Falcons extend DT Grady Jarrett to 4-year, $68M deal (Impact on Jones?)

Today

01:59 PM

by

O.city

4

144

Clay and company; doing God's work.

Today

01:53 PM

by

Rain Man

29

924

» Online Users: 583
118 members and 465 guests
-King-, Amnorix, Baby Lee, baitism, BanHam, BDj23, blake5676, brorth, Bump, BWillie, Chief Northman, ChiefBlueCFC, Chiefs316, cj2wr, ClevelandBronco, CrossCheck, Dartgod, Detoxing, displacedinMN, DJ's left nut, dlphg9, drh12, dsgreene2850, Eureka, Fansy the Famous Bard, GloryDayz, GMitch, Go Royals, gonefishin53, Hali-lujah, Hammock Parties, Hamwallet, HingleMCringlebery, Hog's Gone Fishin, Hound333, Imon Yourside, IowaHawkeyeChief, jeff h, jimidollar, Jodi's Bareback, journeyscarab, KCUnited, kcxiv, KC_Lee, loochy, Lprechaun, mac459, MagicHef, Malcor, Marcellus, mdstu, MIAdragon, Miles, mkp785, Mugalug, Munson, NashvilleRock.net, PAChiefsGuy, PHANTOM, philfree, Priest31kc, ptlyon, Rain Man, Renegade, rtmike, Saulbadguy, SAUTO, Shag, Shaid, shakesthecat, Shiver Me Timbers, Simply Red, slc, solidgold, St. Patty's Fire, stumppy, Superturtle, suzzer99, Talisman, The Rick, ThyKingdomCome15, TimBone, Titty Baby, treeguy27, tyler360, tyton75, vachief58, Vegas_Dave, Warrick, Zap Rowsdower, Zebedee DuBois
Most users ever online was 4,753, 12-04-2015 at 09:37 PM.