» Stats
Members: 11,874
Threads: 233,957
Posts: 12,559,691

Welcome to our newest member, Widowwhite

» Welcome, guest!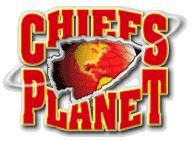 Welcome to ChiefsPlanet,
a Kansas City Chiefs Message Board
This forum is fast and furious with discussion on all variety of topics. Newbies welcomed. If you enjoy reading, don't be shy - please jump in and post!
If this is your first visit, be sure to check out the FAQ by clicking the link above. You will have to register before you can post; click the register link above to proceed. To start viewing messages, visit our main forum, The Lounge or click on a thread title below this message.
» Recent Threads
Title, Username, & Date
Last Post
Replies
Views
Tyreek Hill News and Notes

Today

03:04 PM

by

loochy

8

36

Brett Favre: I will be coming out of retirement for the 2020 season

Today

03:03 PM

by

Bwana

5

88

Your yearly "Get DirecTV to discount NFL Sunday Ticket" thread

Today

03:02 PM

by

DaFace

943

71,560

Do you (or wife/gf) still sleep with a stuffed animal?

Today

03:00 PM

by

kjwood75nro

41

650

What happened to Malaysian Flight 370

Today

03:00 PM

by

Pushead2

49

1,850

Broncos news megathread

Today

02:57 PM

by

Toad

34,591

1,961,575

Nice having nationally known top tier QB

Today

02:54 PM

by

Frazod

39

1,247

Kurt Cobain is about 5 months away from being a free man again.

Today

02:51 PM

by

LiveSteam

18

294

WHB EXCLUSIVE: TYREEK HILL DID NOT BREAK SON'S ARM

Today

02:27 PM

by

carcosa

1,510

41,346

Help me choose an NBA team

Today

02:11 PM

by

Hydrae

71

1,080

» Online Users: 474
101 members and 373 guests
007, alnorth, Amnorix, Aspengc8, Baby Lee, beerwolf, bloomer88, BossChief, Buehler445, BWillie, Chief3188, chiefforlife, chiefs1111, chinaski, cooper barrett, CordMcNally, crispystl420, cron912, cwhocares, DJ's left nut, duncan_idaho, eDave, FanOfRED, farmerchief, Fezzic, Flachief58, Frosty, ghty, Hammock Parties, hawkchief, Hydrae, iachief, jaa1025, Jamie, jayhawksandchiefs, jjchieffan, Jodi's Bareback, KCUnited, KentuckyChief, kgchiefs, kjwood75nro, Lennie Briscoe, listopencil, LiveSteam, locomoulds, LoneWolf, loochy, Lprechaun, mac459, Malcor, Marcellus, Meli.matrix, MephistophelesJanx, NIUhuskies, Pablo, Pitt Gorilla, Prison Bitch, ptlyon, Pushead2, Radar Chief, RealSNR, RickObie, rolstrol, royr17, rydogg58, SAUTO, seamonster, shakesthecat, Shields68, Sideburn, soonersfreak, staylor26, SupDock, tatorhog, The Franchise, The GMDM Hypothesis, The Iron Chief, the steam, tmax63, Toad, True North, UK_Chief, vailpass
Most users ever online was 4,753, 12-04-2015 at 09:37 PM.