» Stats
Members: 12,180
Threads: 237,116
Posts: 12,840,586

Welcome to our newest member, eyongtanyi

» Welcome, guest!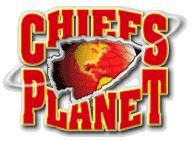 Welcome to ChiefsPlanet,
a Kansas City Chiefs Message Board
This forum is fast and furious with discussion on all variety of topics. Newbies welcomed. If you enjoy reading, don't be shy - please jump in and post!
If this is your first visit, be sure to check out the FAQ by clicking the link above. You will have to register before you can post; click the register link above to proceed. To start viewing messages, visit our main forum, The Lounge or click on a thread title below this message.
» Recent Threads
Title, Username, & Date
Last Post
Replies
Views
Kurt Warner says Patrick Mahomes might be most complete QB we've ever seen

Today

07:18 AM

by

Flying High D

45

1,317

Frank Clark ****ing sucks

Today

07:14 AM

by

RealSNR

2,184

80,315

Every teams "1-hit wonder"

Today

07:13 AM

by

Flying High D

30

919

Clark Hunt midseason address

Today

07:08 AM

by

Flying High D

51

1,904

Insiders: Andy and Mahomes upset/mad

Today

06:48 AM

by

GloryDayz

767

21,251

Jury Duty

Today

06:36 AM

by

Coyote

65

1,020

Medical Insurance Enrollment questions

Today

06:13 AM

by

KCUnited

25

369

Any Bourbon drinkers out there?

Today

05:56 AM

by

lewdog

1,723

233,919

****The Official 2019 STL Cardinals Thread****

Today

05:48 AM

by

BigRedChief

3,013

122,670

"The Franchise" - Chiefs show - Wednesdays - 6pm

Today

05:01 AM

by

TwistedChief

378

29,949

» Online Users: 432
62 members and 370 guests
1963chief, bax_, bgguitarman, BigCatDaddy, bloomer88, ChiefEd, ChiliConCarnage, CordMcNally, Cosmos, CrossCheck, Dartgod, Dayze, dj56dt58, dmahurin, Don Corlemahomes, dtrain, duncan_idaho, Earthbound, e_train69, farmerchief, Flying High D, ForeverChiefs58, Friggles, GloryDayz, Grim, Hammock Parties, HonestChieffan, Javabean, JohnnyHammersticks, KCFalcon59, KCUnited, Kman34, mac459, MahomesKnows, Miles, NewChief, pugsnotdrugs19, RealSNR, redhed, Renegade, SDChiefs, shakesthecat, steelyeyed57, Tges58, thechiefhusker, TheMartyr, theoldcoach, Third Eye, Toad, Toto, wheeler08, Why Not?, Wildcatmo, wisconsinchief
Most users ever online was 4,753, 12-04-2015 at 09:37 PM.