» Stats
Members: 11,752
Threads: 232,567
Posts: 12,428,261

Welcome to our newest member, neech

» Welcome, guest!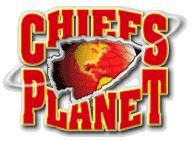 Welcome to ChiefsPlanet,
a Kansas City Chiefs Message Board
This forum is fast and furious with discussion on all variety of topics. Newbies welcomed. If you enjoy reading, don't be shy - please jump in and post!
If this is your first visit, be sure to check out the FAQ by clicking the link above. You will have to register before you can post; click the register link above to proceed. To start viewing messages, visit our main forum, The Lounge or click on a thread title below this message.
» Recent Threads
Title, Username, & Date
Last Post
Replies
Views
Gronkowski announces retirement

Today

12:58 PM

by

Amnorix

137

3,988

2019 Free agency Thread

Today

12:57 PM

by

htismaqe

9,555

258,906

Did Tech 9 die??

Today

12:54 PM

by

Coochie liquor

20

988

***March Madness 2019***

Today

12:47 PM

by

luv

30

702

What the hell is CBD oil? And would you buy chocolate bars with this oil in it?

Today

12:40 PM

by

loochy

48

1,175

Tyreek Hill under investigation for battery

Today

12:18 PM

by

O.city

4,960

202,813

*** Official 2018-2019 Royals Offseason Repository ***

Today

12:06 PM

by

duncan_idaho

702

41,039

Ford GT hits 300.4 Mph in Texas standing mile...

Today

11:59 AM

by

mac459

29

971

Nike getting ready to have their own college BB scandal. Bring on the bribes!

Today

11:49 AM

by

Pitt Gorilla

12

539

Eric Berry Released!

Today

10:53 AM

by

JakeF

364

15,035

» Online Users: 672
114 members and 558 guests
-King-, allen_kcCard, Amnorix, Angry fan, AssEaterChief, BDj23, Beef Supreme, bigjosh, BigRichard, blazzin311, bobhill, Bogeycat, booyaf2, brorth, CasselGotPeedOn, Chief Northman, ChiefaRoo, ChiefBlueCFC, chiefforlife, ChiefinSD, chiefs1111, Chiefspants, ChiliConCarnage, cj2wr, CoMoChief, CordMcNally, cron912, DanBecky, Dawson4004, Direckshun, DJ's left nut, dlphg9, Donger, FAX, fredflintrock, GloryDayz, GMitch, htismaqe, iachief, jackkked, Jerok, KC Hawks, KCUnited, KC_Lee, keg in kc, Kellerfox, LabelX, lawrenceRaider, listopencil, mac459, MAHOMO 4 LIFE!, Mama Hip Rockets, Marcellus, Megatron96, Meli.matrix, mikeboogie, mlyonsd, mr. tegu, neblo, NinerDoug, ntexascardfan, O.city, Pablo, Pasta Giant Meatball, Pitt Gorilla, Pogue, Prison Bitch, ptlyon, RedRaider56, RobertWeathers, Robio9, RodeoPants2, RunKC, SAUTO, SDChiefs, seaofred, Sensual Lardass, SFfan79, shammus, Sideburn, Simply Red, Superturtle, Sweet Daddy Hate, Talisman, TambaBerry, thawk, The Franchise, thecoffeeguy, Third Eye, TwistedChief, vailpass, WhawhaWhat, Whereizzy, Why Not?
Most users ever online was 4,753, 12-04-2015 at 09:37 PM.