» Today's Birthdays
Jmart (48)


» Stats
Members: 12,134
Threads: 236,535
Posts: 12,784,852

Welcome to our newest member, TechnicolorMan

» Welcome, guest!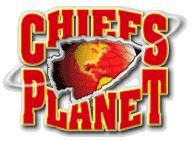 Welcome to ChiefsPlanet,
a Kansas City Chiefs Message Board
This forum is fast and furious with discussion on all variety of topics. Newbies welcomed. If you enjoy reading, don't be shy - please jump in and post!
If this is your first visit, be sure to check out the FAQ by clicking the link above. You will have to register before you can post; click the register link above to proceed. To start viewing messages, visit our main forum, The Lounge or click on a thread title below this message.
» Recent Threads
Title, Username, & Date
Last Post
Replies
Views
I stabbed my leg with a ice pick at work yesternight

Today

09:43 AM

by

chinaski

40

631

Matty "Midnight Hour" Moore

Today

09:42 AM

by

FAX

31

764

Trying to find any silver lining

Today

09:42 AM

by

lcarus

21

131

Resurrect this thread in 3 years

Today

09:38 AM

by

IowaHawkeyeChief

63

3,048

Le'Ron McClain agreed to terms on a 3-year deal with the SD Chargers.

Today

09:31 AM

by

rabblerouser

68

3,315

****The Official 2019 STL Cardinals Thread****

Today

09:21 AM

by

BigRedChief

2,975

112,165

You all make me sick

Today

09:04 AM

by

PHOG

106

2,709

What strains of weed are you currently smoking?

Today

08:53 AM

by

Naptown Chief

1,470

194,948

Mahomes Injury

Today

08:52 AM

by

pugsnotdrugs19

663

34,973

SHOULD we make any moves before the deadline?

Today

08:34 AM

by

O.city

56

1,878

» Online Users: 1,092
95 members and 997 guests
-King-, 1hughjass, Al Bundy, Armyofme, banyon, big nasty kcnut, Blick, booyaf2, bsp4444, BWillie, candyman, carcosa, CasselGotPeedOn, Chief Diaz, ChiliConCarnage, chinaski, ClevelandBronco, Dallas Chief, Dante84, Dartgod, dj56dt58, dmahurin, Don Corlemahomes, Donger, duncan_idaho, Fansy the Famous Bard, FAX, Giant Octopodes, Groves, hawkchief, HC_Chief, ILikeBigTiddys, IowaHawkeyeChief, JerseyChief, jfan, JohnnyHammersticks, JohnnyV13, kcfanXIII, Ken Bone, KentuckyChief, KGSoloman5k, Knuckledump, lcarus, Lennie Briscoe, Loneiguana, LoneWolf, mac459, mago_wes, Meatloaf, montanachief, O.city, otherstar, Otis Day, Over Yonder, PatriotsGuy, petegz28, philfree, phisherman, Prison Bitch, RealSNR, RobertWeathers, rocknrolla, rolstrol, Romeo64, Roy Munson, rprevost85, Scaga, SDChiefs, Sideburn, smithandrew051, solidgold, ssj2, steelyeyed57, stumppy, TambaBerry, The Rick, thegame214, theoldcoach, Third Eye, Titty Baby, TrebMaxx, tyreekthefreak, Vox Romantic, Wallcrawler, Wyatt Earp, Zook
Most users ever online was 4,753, 12-04-2015 at 09:37 PM.