» Stats
Members: 13,126
Threads: 248,453
Posts: 13,900,837

Welcome to our newest member, CallForHelp

» Welcome, guest!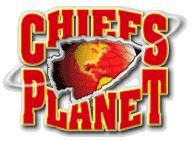 Welcome to ChiefsPlanet,
a Kansas City Chiefs Message Board
This forum is fast and furious with discussion on all variety of topics. Newbies welcomed. If you enjoy reading, don't be shy - please jump in and post!
If this is your first visit, be sure to check out the FAQ by clicking the link above. You will have to register before you can post; click the register link above to proceed. To start viewing messages, visit our main forum, The Lounge or click on a thread title below this message.
» Recent Threads
Title, Username, & Date
Last Post
Replies
Views
****OFFICIAL 2021 NFL Free Agency Megathread****

Today

03:41 PM

by

Detoxing

2,052

98,463

Jags Sign Tebow

Today

03:41 PM

by

Mile High Mania

49

718

Just got my first pellet smoker. Any tips?

Today

03:36 PM

by

KCUnited

71

1,112

Report: Chiefs *players* reached out to Dede Westbrook

Today

03:33 PM

by

Wilson8

43

1,505

Eric Fisher to the Colts

Today

03:29 PM

by

KCChiefsFan88

84

2,064

Gasoline at $2.50 Coming to a Pump Near You, Unfazed by Falling Tab

Today

03:29 PM

by

jjjayb

861

104,907

***NON-POLITICAL COVID-19 Discussion Thread***

Today

03:11 PM

by

Monticore

52,420

4,206,516

***Official 2021 Royals Season Repository Thread***

Today

03:11 PM

by

PHOG

2,014

102,585

Chiefs re-sign Tamba Hali

Today

03:11 PM

by

htismaqe

38

1,015

Just Took Head In The Car From 50 Year Old

Today

03:11 PM

by

TLO

222

29,238

» Online Users: 512
97 members and 415 guests
2bikemike, 64 Chief, AdolfOliverBush, banyon, Boise_Chief, bringbackmarty, CanadaKC, carlos3652, CatinKS, Chazno, Chief Redmen, chiefs1111, chiefsfan58, cookster50, Corandval1977, crispystl, Crush, Detoxing, Donger, dsgreene2850, Eureka, farmerchief, ForeverIowan, GloryDayz, gonefishin53, Hailchief, Hammock Parties, htismaqe, huffmd15, IChief, Imon Yourside, In58men, Infidel Goat, jallmon, jjjayb, journeyscarab, jsmax, jswizzle6, kappa72202, KCChiefsFan88, KCUnited, kgrund, KGSoloman5k, Lennie Briscoe, LOCOChief, louie aguiar, LTL, MahomesKnows, MahomesMagic, Malcor, mdstu, Mennonite, Midway Chief, Mile High Mania, mililo4cpa, Monticore, Mr_Tomahawk, Munson, O.city, Otter, Oz_Chief, PattyFlakes, poolboy, pugsnotdrugs19, red66, Renegade, RodeoPants2, ROYC75, RunKC, seamonster, Shaid, shakesthecat, Snopes Hammer, Sofa King, Sorce, Sorry, staylor26, Superturtle, TEX, The Franchise, thechiefhusker, tooge, TrebMaxx, Wilson8, Wisconsin_Chief, Wrasse
Most users ever online was 4,753, 12-04-2015 at 09:37 PM.