» Today's Birthdays
TRR (37)


» Stats
Members: 11,791
Threads: 232,999
Posts: 12,468,285

Welcome to our newest member, gqoyrj

» Welcome, guest!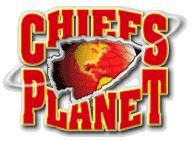 Welcome to ChiefsPlanet,
a Kansas City Chiefs Message Board
This forum is fast and furious with discussion on all variety of topics. Newbies welcomed. If you enjoy reading, don't be shy - please jump in and post!
If this is your first visit, be sure to check out the FAQ by clicking the link above. You will have to register before you can post; click the register link above to proceed. To start viewing messages, visit our main forum, The Lounge or click on a thread title below this message.
» Recent Threads
Title, Username, & Date
Last Post
Replies
Views
Frank Clark to KC!

Today

12:01 PM

by

Gravedigger

158

2,087

Patrick Peterson - cryptic post!

Today

11:58 AM

by

Sweet Daddy Hate

213

4,809

Patrick Mahomes

Today

11:48 AM

by

eDave

61

1,666

*** Official 2019 Kansas City Royals Repository ***

Today

11:47 AM

by

BWillie

847

24,260

Chiefs trading for Frank Clark rumors

Today

11:42 AM

by

BigRedChief

183

6,756

The Greatest Movie Franchises of All Time - Elite 8

Today

11:36 AM

by

Carr4MVP

90

1,220

***This just in... Kyler Murrah... will not be selected as...

Today

11:31 AM

by

Kiimosabi

16

636

Personal finance and investing megathread extravaganza

Today

11:28 AM

by

Discuss Thrower

2,816

265,566

Broncos news megathread

Today

11:27 AM

by

Chris Meck

34,218

1,860,867

A peek into the NFL draft's black market of information

Today

11:11 AM

by

Sweet Daddy Hate

12

361

» Online Users: 853
222 members and 631 guests
44yearsandcounting, allen_kcCard, alpha_omega, Amnorix, AndChiefs, ArrowheadHawk, arrowheadnation, Aspengc8, Average Fan, Baby Lee, Baster mater, bax_, Beef Supreme, big nasty kcnut, BigRedChief, BigRichard, blake5676, Blick, bloomer88, booyaf2, Brando, Brent Williams, bringbackmarty, Bronco_buster2, bsp4444, burt, BWillie, C3HIEF3S, cabletech94, CanadianChief, carcosa, Carr4MVP, CasselGotPeedOn, Chargem, Chazno, Chief Redmen, Chief Roundup, ChiefBlueCFC, chiefforlife, ChiefinSD, Chiefs Moon, Chiefs42, ChiefsCountry, ChiefsHawk, Chiefspants, chiefzilla1501, ChiliConCarnage, Chris Meck, cj2wr, Clyde Frog, comochiefsfan, Corandval1977, CordMcNally, Cosmos, crispystl420, cron912, CrossCheck, CupidStunt, Dalex, dallaschiefsfan, DanBecky, Danguardace, DanT, Dartgod, Dayze, DeepSouth, Detoxing, Direckshun, DJ's left nut, djchief56, DJKid, dlphg9, dmahurin, Donger, doomy3, DrRyan, duncan_idaho, Dunerdr, Ecto-I, eDave, el borracho, EMAW24, FAH-Q, FanOfRED, farmerchief, Fish, Friggles, gh4chiefs, GloryDayz, Go Royals, Gravedigger, Hammock Parties, HighChief, Hydrae, IA_Chiefs_fan, Iconic, jackkked, Jamie, Jerm, jjjayb, JohninGpt, KC Hawks, kc rush, KC-TBB, kcclone, KCrockaholic, KCwolf, kcxiv, KC_Lee, KGSoloman5k, Kiimosabi, L.A. Chieffan, LabelX, lcarus, LiveSteam, locomoulds, Luv it, mac459, MagicHef, MahomesKnows, MAHOMO 4 LIFE!, Malcor, Marcellus, marcus, Megatron96, Megbert, MephistophelesJanx, milkman, mnchiefsguy, montanachief, Mother****erJones, Mr. Plow, mrroandrro, Mr_Tomahawk, Munson, NashvilleRock.net, Nightfyre, NinerDoug, Nixhex, O.city, OKchiefs, okiedokieokoye, oldandslow, old_geezer, OmahaChief, Over Yonder, PAChiefsGuy, philfree, Pitt Gorilla, POND_OF_RED, poolboy, prhom, ptlyon, RaidersOftheCellar, Rain Man, RealSNR, Renegade, Ribbs67, RickObie, rtmike, RunKC, saphojunkie, SAUTO, schneider221, Shaid, shakesthecat, Shoes, Showtime, Sig, slc, smithandrew051, St. Patty's Fire, staylor26, Steron, stumppy, Superturtle, Sure-Oz, suzzer99, Sweet Daddy Hate, TambaBerry, TEX, thabear04, The Franchise, The Iron Chief, Third Eye, Thunderlizard, tmax63, Toad, TomBarndtsTwin, TravelingChiefs, Unsmooth-Moment, Valiant, Wallcrawler, Warpaint69, WhawhaWhat, xztop123
Most users ever online was 4,753, 12-04-2015 at 09:37 PM.