» Stats
Members: 12,652
Threads: 243,141
Posts: 13,344,327

Welcome to our newest member, Graham007

» Welcome, guest!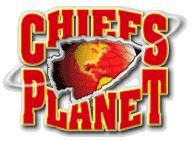 Welcome to ChiefsPlanet,
a Kansas City Chiefs Message Board
This forum is fast and furious with discussion on all variety of topics. Newbies welcomed. If you enjoy reading, don't be shy - please jump in and post!
If this is your first visit, be sure to check out the FAQ by clicking the link above. You will have to register before you can post; click the register link above to proceed. To start viewing messages, visit our main forum, The Lounge or click on a thread title below this message.
» Recent Threads
Title, Username, & Date
Last Post
Replies
Views
***NON-POLITICAL COVID-19 Discussion Thread***

Today

11:00 AM

by

ptlyon

41,683

1,479,850

Albert Wilson

Today

10:56 AM

by

RealSNR

86

5,669

Charvarious Ward was playing blind... but not anymore

Today

10:55 AM

by

RealSNR

35

1,379

Dont'a Hightower and 4 other Patriots opt out of 2020 season

Today

10:50 AM

by

KCChiefsFan88

173

4,477

What are you Smoking/Grilling/BBQ...

Today

10:48 AM

by

GloryDayz

2,406

242,543

Renaming the Chiefs: Round 6 - The Championship

Today

10:37 AM

by

tx4chiefs

21

600

****OFFICIAL NBA Regular Season Thread****

Today

10:35 AM

by

BWillie

2,178

58,783

Happy 20th Anniversary ChiefsPlanet

Today

10:25 AM

by

InChiefsHeaven

130

2,224

Derek Carr ****ing sucks

Today

10:22 AM

by

jdubya

849

94,280

How much would you pay to the Mahomes Foundation to have Pat throw you a pass?

Today

10:17 AM

by

digger

21

506

» Online Users: 419
95 members and 324 guests
A8bil, alpha_omega, backinblack, Beef Supreme, BigBeauford, BigRichard, bloomer88, Boise_Chief, bringbackmarty, Buehler445, Buns, BWillie, CasselGotPeedOn, Cave Johnson, Chief Redmen, Chief3188, ChiefBlueCFC, ChiefsCountry, ChiefsNWildcats, Chiefspants, DanBecky, Danguardace, Dartgod, Discuss Thrower, DJ's left nut, dj56dt58, dlphg9, Donger, Dunerdr, El Lobo Gordo, Fish, GloryDayz, GMitch, Grim, Hammock Parties, Harry99, IChief, IowaHawkeyeChief, Iowanian, jd1020, Jerok, jiveturkey, KC-TBB, KCChiefsFan88, kcgizmo, KC_Connection, Lennie Briscoe, Mephistopheles Janx, milkshock, Mizzou_8541, mlyonsd, mnchiefsguy, Monticore, mr. tegu, neblo, NJChiefsFan27, O.city, Old Dog, Pants, ptlyon, pugsnotdrugs19, Raiderhader, Rain Man, RealSNR, royr17, RunKC, Snopes Hammer, steelyeyed57, stumppy, Superturtle, ThaVirus, The Franchise, The Scooter, Toad, True North, TwistedChief, tyler360, Whereizzy, Wisconsin_Chief, yellowfin13x, Zook
Most users ever online was 4,753, 12-04-2015 at 09:37 PM.