» Today's Birthdays
Jmart (48)


» Stats
Members: 12,134
Threads: 236,539
Posts: 12,785,211

Welcome to our newest member, TechnicolorMan

» Welcome, guest!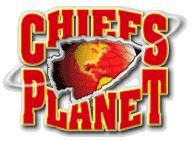 Welcome to ChiefsPlanet,
a Kansas City Chiefs Message Board
This forum is fast and furious with discussion on all variety of topics. Newbies welcomed. If you enjoy reading, don't be shy - please jump in and post!
If this is your first visit, be sure to check out the FAQ by clicking the link above. You will have to register before you can post; click the register link above to proceed. To start viewing messages, visit our main forum, The Lounge or click on a thread title below this message.
» Recent Threads
Title, Username, & Date
Last Post
Replies
Views
Mahomes Injury

Today

02:27 PM

by

New World Order

706

35,549

****Official 2019 Missouri Tigers Football Thread****

Today

02:27 PM

by

'Hamas' Jenkins

203

5,686

Broncos news megathread

Today

02:23 PM

by

FlaChief58

36,046

2,419,286

Matty "Midnight Hour" Moore

Today

02:21 PM

by

Naptown Chief

58

1,323

Defense is better without Jones?

Today

02:20 PM

by

-King-

6

7

Division title up for grabs now

Today

02:20 PM

by

R8RFAN

67

1,894

Trying to find any silver lining

Today

02:12 PM

by

Megatron96

42

855

Bayless with great explanation on why QB Sneak call was okay....

Today

02:10 PM

by

DaFace

43

556

Damien Williams: is it time for a change?

Today

02:04 PM

by

Dunerdr

80

1,896

Week 8: Letís Talk About The Packers

Today

02:00 PM

by

BigRedChief

66

2,252

» Online Users: 1,091
96 members and 995 guests
-King-, 2bikemike, 44yearsandcounting, AJKCFAN, arrwheader, BanHam, BDj23, BigCatDaddy, Bowser, brorth, candyman, ChiefinNE, Chiefs4TheWin, Clyde Frog, CrossCheck, Crush, Dalex, dannybcaitlyn, Discuss Thrower, DJ's left nut, Dunerdr, eDave, FAX, FlaChief58, Great Expectations, Horse Collar, journeyscarab, KC Hawks, kcpasco, KCUnited, KGSoloman5k, LoneWolf, MAHOMO 4 LIFE!, manchambo, Megatron96, MephistophelesJanx, MOhillbilly, Molitoth, montanachief, Munson, Nalpak03, Naptown Chief, New World Order, Nickhead, NinerDoug, Pat, Pogue, Pointer19, poolboy, Raiderhader, RaidersOftheCellar, RaytownChief, redfriday, rico, RocKhawks, Scaga, Scorp, SDChiefs, solidgold, Star56, staylor26, stumppy, SupDock, suzzer99, Taco John, Third Eye, TipRoast, tooge, TrebMaxx, tyler360, tyreekthefreak, UChieffyBugger, wazu, wolfeman59, xztop123
Most users ever online was 4,753, 12-04-2015 at 09:37 PM.