» Stats
Members: 12,494
Threads: 240,813
Posts: 13,139,757

Welcome to our newest member, Pickle Rick

» Welcome, guest!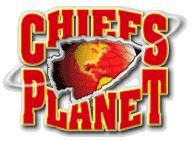 Welcome to ChiefsPlanet,
a Kansas City Chiefs Message Board
This forum is fast and furious with discussion on all variety of topics. Newbies welcomed. If you enjoy reading, don't be shy - please jump in and post!
If this is your first visit, be sure to check out the FAQ by clicking the link above. You will have to register before you can post; click the register link above to proceed. To start viewing messages, visit our main forum, The Lounge or click on a thread title below this message.
» Recent Threads
Title, Username, & Date
Last Post
Replies
Views
***NON-POLITICAL COVID-19 Discussion Thread***

Today

08:06 PM

by

Monticore

18,869

456,227

All I Have is a Photograph....

Today

08:01 PM

by

Shiver Me Timbers

158

3,381

Chiefs sign RB DeAndre Washington

Today

08:00 PM

by

Hoover

71

2,199

John Prine in critical condition. Covid-19 symptoms. [RIP]

Today

07:58 PM

by

Cave Johnson

124

4,050

Any Bourbon drinkers out there?

Today

07:56 PM

by

Marcellus

1,928

279,060

A Countdown of the Top 25 (27 technically) "Most Helpful" Posts

Today

07:47 PM

by

RealSNR

38

569

Movie night : Land of the Lost

Today

07:39 PM

by

Hog's Gone Fishin

1

34

Sandbox Simulations is open for business! Sign up now!

Today

07:34 PM

by

lewdog

2,982

115,891

Is it the line, or the running back?

Today

07:28 PM

by

MahiMike

66

1,074

Chiefs sign punter Tyler Newsome

Today

07:24 PM

by

redhed

32

1,356

» Online Users: 593
126 members and 467 guests
007, 2bikemike, Ash, Baby Lee, backinblack, banyon, bluehawkdoc, Bowser, Brooklyn, brorth, bsp4444, B_Ambuehl, cabletech94, candyman, Cave Johnson, Cheater5, Chief Northman, Chief Roundup, Chiefs4TheWin, Chiefshrink, CordMcNally, cosmo20002, Dallas Chief, displacedinMN, DJJasonp, dlphg9, DrRyan, eyenthesky, GeorgeZimZam, gh4chiefs, Graystoke, Hammock Parties, Hog's Gone Fishin, hometeam, Humbug, Jamie, jigslinger, kcfan75, kcjayhawks5, Kcmofan, kczoo, Kellerfox, kgrund, KGSoloman5k, KS Smitty, listopencil, LiveSteam, LTL, mac459, MahomesKnows, Marcellus, MatriculatingHank, mdstu, Miles, mlyonsd, mnchiefsguy, Monticore, mr. tegu, Mr_Tomahawk, Munson, NinerDoug, Ninerfan11, notorious, O.city, Otter, PAChiefsGuy, Pants, petegz28, PhillyChiefFan, POND_OF_RED, Prison Bitch, Punwit, RaiderH8r, Raiderhader, Rain Man, ralittleus, RealSNR, redfriday, SAUTO, scho63, Shiver Me Timbers, Sig, soonersfreak, staylor26, stumppy, Swanman, TambaBerry, TexasChief, ThaVirus, The PMII Hypothesis, TheMartyr, Three7s, TimBone, tredadda, Ubeja Vontell, UChieffyBugger, vailpass, wachashi, Wilson8, yeti
Most users ever online was 4,753, 12-04-2015 at 09:37 PM.