» Today's Birthdays
DMAC (40)


» Stats
Members: 12,028
Threads: 235,754
Posts: 12,716,527

Welcome to our newest member, Pcojr58

» Welcome, guest!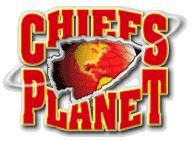 Welcome to ChiefsPlanet,
a Kansas City Chiefs Message Board
This forum is fast and furious with discussion on all variety of topics. Newbies welcomed. If you enjoy reading, don't be shy - please jump in and post!
If this is your first visit, be sure to check out the FAQ by clicking the link above. You will have to register before you can post; click the register link above to proceed. To start viewing messages, visit our main forum, The Lounge or click on a thread title below this message.
» Recent Threads
Title, Username, & Date
Last Post
Replies
Views
DeMarcus Robinson 1 reception, 0 yards

Today

04:30 PM

by

Chiefshrink

102

2,585

One notable improvement through 3 weeks

Today

04:29 PM

by

keg in kc

2

3

Late Games Thread

Today

04:28 PM

by

mlyonsd

77

464

Is Patrick already your favorite Chief of all time?

Today

04:27 PM

by

Megatron96

65

1,145

Broncos news megathread

Today

04:27 PM

by

Hammock Parties

35,511

2,343,397

*****The Mecole Hardman Thread*****

Today

04:26 PM

by

eDave

994

82,508

*****The Patrick Mahomes Thread*****

Today

04:26 PM

by

suzzer99

24,541

1,849,325

****The Official Ravens @ Chiefs Gameday Thread****

Today

04:22 PM

by

Tribal Warfare

2,772

52,308

The Free Play

Today

04:15 PM

by

Rain Man

2

55

Frank Clark ****ing sucks

Today

04:14 PM

by

JakeF

360

11,843

» Online Users: 687
175 members and 512 guests
-King-, 44yearsandcounting, alanm, allen_kcCard, Archie Bunker, Barrymore50, Basileus777, BeMyValentine, Bewbies, BigBeauford, blackdragon11, blake1771, bobhill, BWillie, cabletech94, CasselGotPeedOn, chefs fan in omaha, Chief Northman, Chiefaholic, chiefforlife, Chiefs42, ChiefsChick23, Chiefshrink, Chiefspants, Chris Meck, CordMcNally, Cow Pollinator, Dalex, DanBecky, DanT, Dante84, Dartgod, Dawson4004, digger, displacedinMN, dj56dt58, djchief56, dlphg9, DRM08, DrunkBassGuitar, dsgreene2850, dtrain, duncan_idaho, eDave, Eric1670, Fat Elvis, ForeverChiefs58, gaston11, Graystoke, Hammock Parties, Hamwallet, Hog's Gone Fishin, Humbug, InChiefsHell, Iowanian, jaa1025, jackkked, JakeF, jallmon, jamesadamic, Javabean, jjchieffan, jjjayb, Jodi's Bareback, Judge Smails, KC Hawks, KC-TBB, KCFalcon59, KChiefs1, kcwolf84, keg in kc, King slayer, King_Chief_Fan, kysirsoze, Lilmrp117, Lzen, mac459, MAHOMO 4 LIFE!, MeaTy The Pimp, Megatron96, Megbert, MephistophelesJanx, MightyMouse, mkp785, mlyonsd, MMXcalibur, mnchiefsguy, Molitoth, Munson, noa, notorious, oldandslow, old_geezer, Over Yonder, Pablo, PhillyChiefFan, PHOG, ping2000, pugsnotdrugs19, Raiderhader, RaidersOftheCellar, Rain Man, RaytownChief, RealSNR, Red Beans, RedRaider56, RedSea90, ReynardMuldrake, Ron Swanson, Roy Munson, Royalchiefsfan, Rudy tossed tigger's salad, RunKC, SDChiefs, Showtime, solidgold, St. Patty's Fire, staylor26, steelyeyed57, stumppy, SupDock, Superturtle, suzzer99, TambaBerry, TeaQue, TEX, ThaVirus, thechiefhusker, Third Eye, Thunderlizard, TIED5573, Tinker Dill, TransferBanned, Trivers, TwistedChief, tyler360, tyreekthefreak, Warpaint69, wasi, wazu, Wisconsin_Chief, Wyatt Earp, yeti, Zook
Most users ever online was 4,753, 12-04-2015 at 09:37 PM.