» Stats
Members: 12,744
Threads: 244,214
Posts: 13,448,385

Welcome to our newest member, llmontague26@gmail

» Welcome, guest!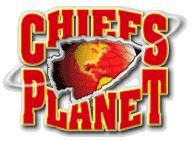 Welcome to ChiefsPlanet,
a Kansas City Chiefs Message Board
This forum is fast and furious with discussion on all variety of topics. Newbies welcomed. If you enjoy reading, don't be shy - please jump in and post!
If this is your first visit, be sure to check out the FAQ by clicking the link above. You will have to register before you can post; click the register link above to proceed. To start viewing messages, visit our main forum, The Lounge or click on a thread title below this message.
» Recent Threads
Title, Username, & Date
Last Post
Replies
Views
Sneed: Broken Collarbone

Today

08:14 AM

by

Mecca

31

489

Where will EB end up at as a HC ?

Today

08:12 AM

by

Mecca

67

855

Mahomes is going to be a father!

Today

08:07 AM

by

RedRaider56

110

3,299

Chris Simms postgame Chiefs vs Ravens commentary

Today

08:05 AM

by

Dunerdr

5

429

*****The Patrick Mahomes Thread*****

Today

07:41 AM

by

BigRedChief

28,780

3,051,920

Anthony Lynn says Chargers are going back to Tyrod

Today

07:39 AM

by

htismaqe

146

3,252

*****The Mike Danna Thread*****

Today

07:32 AM

by

PurpleRiders51

170

14,375

This golden era of Chiefs football we get to enjoy together.

Today

07:29 AM

by

redhed

42

1,072

***** The Official Chiefs vs. Ravens game day thread*****

Today

07:27 AM

by

ThaVirus

3,050

62,033

In depth look at the sneaky Fisher TD

Today

07:13 AM

by

RedRaider56

18

528

» Online Users: 502
116 members and 386 guests
2bikemike, AdolfOliverBush, Baby Lee, backinblack, bax_, BeMyValentine, Bewbies, big nasty kcnut, BigBeauford, BigCatDaddy, Boise_Chief, bowener, Canofbier, CapsLockKey, CasselGotPeedOn, ChiefBlueCFC, Chiefs=Champions, chiefswill27, chinaski, Coochie liquor, CordMcNally, cosmo20002, cripple creek, Danguardace, DJJasonp, Donger, DRM08, DrRyan, dsgreene2850, duncan_idaho, Dunerdr, Fat Elvis, Friggles, Frosty, GMitch, Go Royals, gpsdude, Great Expectations, Hammock Parties, Hamwallet, Hawker007, Hog Rider, HonestChieffan, jet62, jonzie04, KCUnited, KC_Lee, kysirsoze, lcarus, LiveSteam, Loneiguana, LoneWolf, MAHOMO 4 LIFE!, Marcellus, MGRS13, MIAdragon, Miles, Mr. Plow, mr. tegu, O.city, osumatt, Pasta Giant Meatball, philfree, phisherman, ping2000, POND_OF_RED, ptlyon, pugsnotdrugs19, Rams Fan, Red Beans, red66, redhed, RedRaider56, Reroka, Robio9, ROYC75, rprevost85, Rukdafaidas, RunKC, ScareCrowe, seaofred, Shaid, Shields68, Sig, SNAFU, Sofa King, steelyeyed57, stevieray, Stro39, SupDock, Superturtle, theakamu, theoldcoach, Time's Yours, Titty Baby, tooge, TrebMaxx, tyler360, Warrior5, wazu, Wrasse, yeti, Zhawk
Most users ever online was 4,753, 12-04-2015 at 09:37 PM.