» Stats
Members: 11,175
Threads: 230,143
Posts: 12,208,740

Welcome to our newest member, Cexceleration

» Welcome, guest!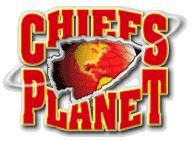 Welcome to ChiefsPlanet,
a Kansas City Chiefs Message Board
This forum is fast and furious with discussion on all variety of topics. Newbies welcomed. If you enjoy reading, don't be shy - please jump in and post!
If this is your first visit, be sure to check out the FAQ by clicking the link above. You will have to register before you can post; click the register link above to proceed. To start viewing messages, visit our main forum, The Lounge or click on a thread title below this message.

» Online Users: 750
123 members and 627 guests
acsimon, Al Bundy, algonamark, AZORChiefFan, Baby Lee, BandwagonChiefsFan, Barrymore50, Best22, bigbucks24, BlackOp, BossChief, BossPooper, Bowser, brorth, Buehler445, Buff_Asthmatic, Bump, Buns, BWillie, CasselGotPeedOn, CatfishBob2, ChiefinSD, chiefs1111, Chiefs=Good, ChiefsandO'sfan, ChiefsCountry, Chiefspants, colt459, Cosmos, DanT, DementedLogic, Discuss Thrower, djchief56, dlphg9, DRM08, dwwataz, Eureka, fairladyZ, FanOfRED, Fish, Flying High D, FringeNC, GloryDayz, gold_and_red, GoShox, gruffbull, hammerdog58, Hammock Parties, HarryCornwallis, HemiEd, Iconic, island, jaa1025, jachba, JakeF, jeff h, jerryaldini, Jim Hammer, Joe_Camel, KCFTW, KILLER_CLOWN, kjwood75nro, kpic, Lickerman, Lilmrp117, LV Tim, MAG, manchambo, MatriculatingHank, maverick, mdstu, Mgm66, mnchiefsguy, mr. tegu, New World Order, NinerDoug, Over Yonder, ozwroe@me.com, PackerinMo, petegz28, philfree, ping2000, Pointer19, PunkinDrublic, Rain Man, richpjr, RickObie, rico, Rivaldo, Ron Swanson, royr17, Shaid, Shawny2X4, Stormageddon, TEX4Chiefs, The Nose, TheNoob, ThexMojoxMan, TIED5573, Tnerped, TomBarndtsTwin, UK_Chief, vachief58, wil75, YayMike
Most users ever online was 4,753, 12-04-2015 at 09:37 PM.